The Reporter Cultural Foundation (Taiwan) Talks with Tickaroo
When Ivory Chia from the The Reporter Cultural Foundation (Taiwan) contacted Tickaroo about using our liveblogging software, usability was her chief concern. It was the beginning of March, and The Reporter Cultural Foundation was sending a team of reporters to Ukraine to cover the escalating situation there. They needed a software that would enable them to cover the news quickly and succinctly, yet didn't require long onboarding processes. The team was essentially already in the air and on their way to Europe.
With Tickaroo Live Blog's simple interface and user experience, the journalists were able to begin their coverage as soon as they landed. With a new feature called the Theme Generator, the editors were able to adjust the design and format of the liveblog to fit the publisher's style and needs,
making the integration of the liveblog
into their website simple and fast.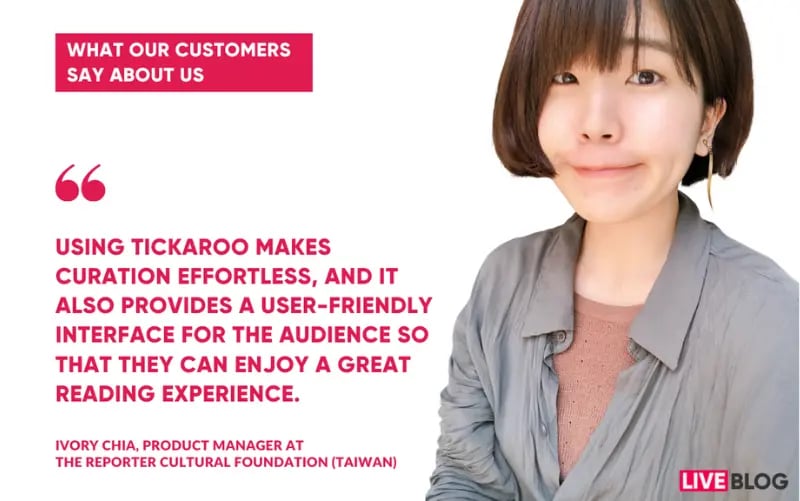 Having seen how quickly her team was able to begin reporting on a global event with a format that they hadn't used as often before, we asked Ivory a few questions about liveblogging and why she finds the format so important for journalists to use in this day and age.
1) What is the greatest benefit you have experienced from using our liveblog software?
News publishers need to curate social media content nowadays because there're more and more governments and public figures using social media as a core communication method.
Using Tickaroo makes curation effortless, and it also provides a user-friendly interface for the audience so that they can enjoy a great reading experience.



2)  What do you see as the greatest benefit of liveblogging?
Readers will easily feel drowned in overwhelming information when live events or breaking news happens. Liveblogging allows readers to get all the trustable updates in just one place.



3)  If you were to recommend our liveblog software, what would you say?
Tickaroo provides excellent UI/UX design in the content management system. Even though the editorial department members are not familiar with digital tools, they can instantly understand how to use Tickaroo.
4) How does our liveblog software impact your business / day-to-day work?
Using Tickaroo makes cross-functional cooperation easier. It reduces the editorial workload significantly.



5) Do you think live blogging will still be relevant in the future? If yes, why?   
Definitely, Liveblogging's light, card-based reading experience is similar to social media; I think it makes absorbing information much easier, especially when things update very quickly.
The Future with The Reporter
We love working with teams like The Reporter that aren't afraid to try new formats to connect with their audiences. They know what they want and need, and we are so proud to be able to provide them with the right tools to enable them accomplish their goals. We look forward to continue to work with them in the future.