What is a Liveblog, exactly?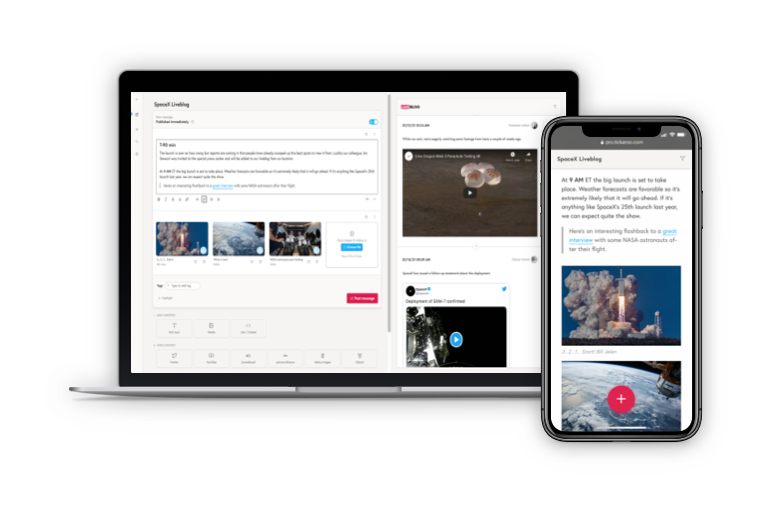 Liveblogs are popping up all over news sites and content creator blogs. But what are they? And how can you use them to increase your engagement and reach?
What is it?
What types of stories are suited for liveblogs?
Especially in the last two years, we've seen a shift in the types of stories covered with this medium. When they first came on the scene, reporters used liveblogs to cover sporting events. Repetitive but central events to any game (like goals or fouls) made it easy to provide fans with updates they craved in real-time.
Over the years, news providers realized that liveblogs were also great for informing their readers about breaking news. The Covid-19 pandemic influenced even more news providers to use this format, as it allowed them to keep their readers up-to-date on local ordinances and hospitalization data.
Now almost any topic can be covered in a liveblog. From royal weddings to elections, from travel blogs to evacuations, liveblogs enable their creators to provide their readers with updates in digestible bites that also encourage interaction on their website.
Why should I use them?
Liveblogs enable interaction on your own website (rather than on social media profiles) and, therefore, lead to longer retention rates, increasing your ad revenue. How do liveblogs do this? Frankly, readers don't want to miss an update, so they keep the webpage open or at least minimized on their desktop.
Some liveblogging software,
ours for example
, also allows you to embed interactive media like surveys, live-commenting blocks, or quizzes into your liveblogs. These interactive posts help increase the amount of time your readers spend on your website, enabling you to learn more about them and their reading behavior from the readers themselves. With the
"crumbling of the cookie
," finding more ways of learning about your audiences to provide them with content that interests them is crucial. Liveblogs offer an excellent method of collecting this data right from the source.
While these reasons are all good, we'd also like to argue that creating liveblogs is also fun. They enable creators to highlight a variety of content with features that allow you to tell stories in new and exciting ways. Want to try it out for yourself? Give our
software a try for free for 14 days.
Do you have a better sense of what a liveblog is now? Feel free to ask us any more questions you may have about our favorite digital storytelling format in the comments.