Demanding, But Not Unattainable: This is How Gen Z Consumes Content
There's one generation that doesn't just use the Internet but lives there: Gen Z. These digital natives are the barometer for future content creators and will determine the new trends in the media industry. In this article originally published in German in Upload Magazin, Naomi Owusu, CEO of Tickaroo, shows how young people consume content and how they differ from older users in this respect. She also explains what measures media creators can take to reach the young target group.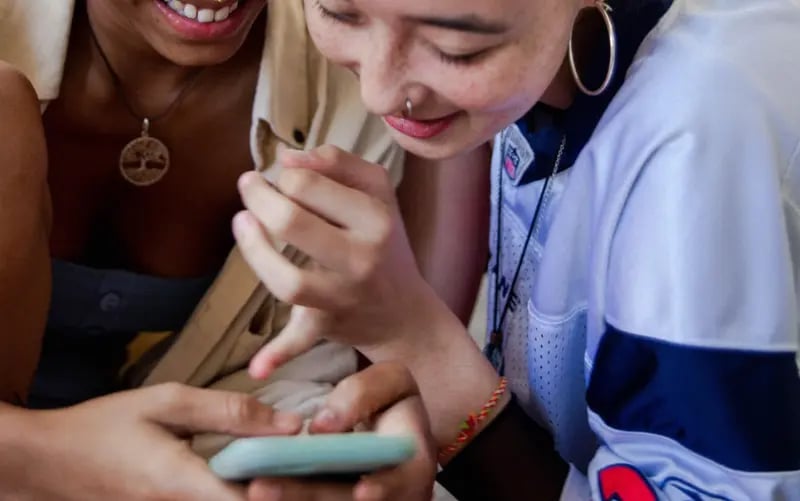 Photo by Shingi Rice on Unsplash
Gen Z Goes Mobile: Media Consumption via Smartphone
Gen Z is used to accessing content from all over the world, regardless of time or place. For most of them, their smartphone is the leading portal to the world of digital media. More than 84 percent can no longer imagine their daily lives without using apps. This is mainly due to the visual nature of the applications. Above all, content in the form of photos or videos helps to captivate young people and connect them even more to their screens.

For media professionals, this means that less text brings more attention. Information and articles should be quickly accessible, uncomplicated, and available at any time. Publishers can therefore benefit from the consumption behavior of younger users, especially if their message is authentically adaptable for mobile devices.

Those with an online platform should therefore ensure that it is also available as a clear and intuitive app - a website in mobile format is no longer sufficient in most cases.


No Costs, No Problem: High Entry Barrier for Subscription Models
The willingness to spend money regularly on content is limited among young people. In contrast to older generations, the budget of Gen Z is usually rather tight. Publishers who work with paid models should take this into account. Therefore, they must first score points, particularly with exciting and engaging content, before younger readers even consider a subscription.

Providers manage to address the interests of young people in mobile apps primarily with group-specific target audience content. Alternatively, publishers can offer free versions to connect with young users beforehand. This way, readers can familiarize themselves with the media offering even without payments, and the product's engaging content stays fresh in their minds.
Short & Crisp: Concise Content with Depth is Crucial
Despite elaborate marketing strategies by streaming providers, subscriber numbers among young audiences continue to decline. According to a new Global Wireless Solutions (GWS) study, Netflix has lost a quarter of its female Gen Z users on its mobile app over the past three years. That's the most significant drop compared to any other age group. On the other hand, free platforms like YouTube excel at shows that are between 30 and 60 minutes long. Compared to Netflix, such offerings are viewed almost 6 million times more frequently, according to GWS.

Content plays an influential role here. Young people prefer short, honest, and entertaining content, as the feeling of "boredom" is not tolerated. In addition, a certain level of meaningfulness and authenticity should be present among publishers and content creators. Untrustworthy content is quickly identified, and inconsistencies between the message and the creator are noticed and called out.

Digital natives understand marketing better than their predecessors and crave compelling stories and topics to which they can relate. Therefore, conveying transparent and genuine stories and accurately evaluating whether the information is relevant to the target audience is essential. In a market with increasingly more young users, this will lead to consumers being attracted mainly by authentic and tailored content.
Show Attitude: High Expectations of Brands
Technological developments in media enable new ways of communicating and consuming content. Publishers and app developers can cleverly use these innovations to address young people.
Push notifications, for example, are still a good option for offering users the opportunity to be informed quickly and automatically about relevant news.
Liveblog formats
and livestreams also hit the fast-moving mark, as consumers can be part of the action in real-time.
As already indicated, Gen Z wants to see compact and visually prepared content, ideally sprinkled with multimedia. Publishers must balance the short attention span of post-millennials. Video formats should therefore be as brief as possible and contain images with little text to quench their constant thirst for new, fast content.
Another indispensable Gen-Z phenomenon is trends. Users love to pick up crazy challenges or whimsical dances and add their own marks. Creating something trendy yet individualized makes them feel noticed and allows them to participate directly in the medium and on the platform. Media professionals should be careful to avoid misinterpreting or imitating trends, particularly when they don't fit the image. Regardless if it suits the message, jumping on every trend bandwagon can quickly turn you into a "cringy" laughing stock among young critics.
When it comes to media consumption, one thing is crucial to the younger target group: Who is behind the message, and can I identify with this person or brand? Generation Z has significantly higher expectations of brands and is less loyal to them than Millennials. The quality and individuality of the products are paramount to them. Secondary factors such as style, sustainability, and flexibility also play a decisive role. Gen Z's life no longer takes place only in the real world but also in the multimedia world. They know this is where they will be heard and where they will find like-minded people, which is why the platforms are not just mouthpieces for the media but also for young people and their personal needs.
Listen & Take Them Seriously: Young People Want to Have Their Say
For publishers, making Gen Z heard and taking them seriously doesn't necessarily mean involving them in all corporate decisions. Instead, it's about building a relationship of trust and creating enough space for interaction and participation. Examples include responding quickly to comments and questions from the community. This way, a respectful exchange can succeed, and a basis of trust between publishers and young readers can be created. Surveys or formats such as Instagram takeovers are also good options for offering young people a platform for their opinions and interactive experiences. Those who communicate transparently with their consumers and can admit to mistakes if necessary are rewarded with loyalty.

Young people are often dismissed as inexperienced and immature. That's why listening to these consumers and responding to their wishes is essential. Because one thing is clear about Generation Z: they are loud and want their say. Whether it's Fridays for Future, federal elections, or education issues, there's no doubt that young people want to participate in decisions and discussions. This is true in both the real and virtual worlds. Media professionals must take this urge for interaction seriously and actively respond because anyone who denies the young revolutionaries a voice is quickly forgotten.
Learning From Each Other: Cross-Generational Exchange
To successfully produce content for Gen Z, you need one thing above all else: media professionals from this generation. Because they know exactly what the young target group shares, likes, and uploads themselves. Utilizing their "insider" knowledge is essential for publishers to get a feel for what kind of entertainment and humor they value.

It's also important to stay authentic and avoid mimicking trends that you, as a brand or publisher, inherently can't embody. Ultimately, this will only lead to a loss of positive reputation and rejection of the content. To produce content for young people, you must listen carefully, pay attention to feedback, read comments and try to understand consumers. Because one thing is certain about Generation Z: the digital world is not a refuge for them; it is their home.