How to Enjoy the Women's World Cup With a 10 Hour Time Difference
With record-breaking attendance, fast-paced games, and
some of the coolest advertising we've seen in a while
, the FIFA Women's World Cup has captured the attention of soccer fans worldwide. With its games in NZ and Australia, many fans have had to adjust their methods of following their favorite players' performances to account for the significant time difference.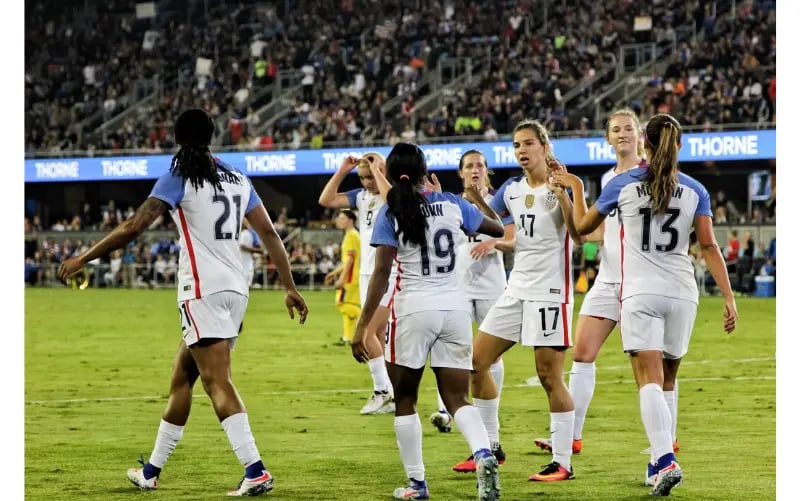 Photo of the US National Team taken in 2016 by Chris Leipelt on Unsplash (Wow, this was almost a decade ago. Wild)
With a 10-hour time difference between our HQ in Regensburg, Germany, and Auckland, New Zealand, Team Tickaroo has found some effective and fun ways of staying in the know.
1. Convince Your Boss...
...that having games on in the office helps morale and therefore boosts performance. In the long run anyway 😉.
2. Check Out Local Coverage of the Games.
The New Zealand publisher
Stuff
and the
A-League
are creating liveblogs of each game in the tournament. These liveblogs let you experience the action live and provide a detailed overview of each game after the fact. With local insights, this kind of news coverage can provide you with angles you might not have even considered before. Filled with scores, videos, pictures, social media posts and more, these multimedia liveblogs give you much more than just reading a recap article.
3. Follow Your Country's Coverage of the Games.
Publishers, an event like the World Cup is a great opportunity to play around with your coverage. Experiment with different tones and focuses to give your audience varied coverage. From injecting humor to discussing tournament controversies, your readers will appreciate getting more than just the bare facts of each game. While liveblogs are great for individual games, many of our clients have also found that creating a liveblog covering the tournament as a whole is a great way to keep fans informed in a casual and bite-sized format. Sure, you can share some of these stories on your social channels, but by collecting them in a curated liveblog on your website, your readers will know where to turn when they want the full picture.
4. Download Apps that have Interactive Features.
We're pretty partial to the
kicker app
and its tournament calculator and "Tippspiel". The tournament calculator allows you to see how individual game outcomes could affect who moves on in the tournament.
The Tippspiel allows you to compete with your friends and other fans. Guess how each team will perform in each game and earn points for every correct answer. These little games raise the stakes in a fun way for fans and give you, even more, incentive to follow every game.
5. Don't Take the "Golden Timeslots" For Granted.
When a game is played at a time that allows you to go to a bar or a friend's house to watch the game, make sure you go. While we love the engagement that digital coverage can provide, there's just nothing like watching a game in person. Feel free to second screen the coverage with your favorite digital medium, but get out there and enjoy cheering on your team with others for the full experience.