Liveblogs and SEO: How Real-time Content Improves Website Rankings
In the fast-paced and highly competitive world of online marketing, the importance of search engine optimization (SEO) continues to grow. Companies are confronted with a complex digital landscape characterized by technical standards, AI, and ever-increasing competition. At the same time, Google is increasingly focusing on E-E-A-T, or Experience, Expertise, Authoritativeness and Trustworthiness, and expects websites to be higher quality and more credible than ever before.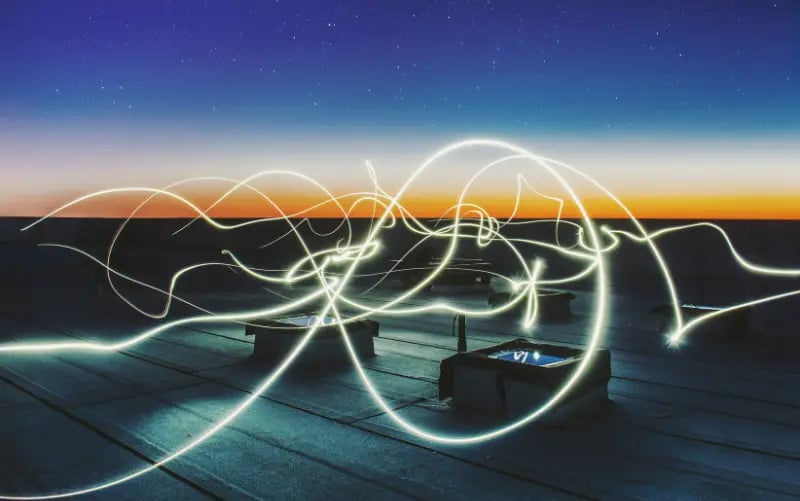 Photo by Federico Beccari on Unsplash
In the face of these challenges, marketers, media providers, and website owners alike are asking themselves how they can survive in this demanding environment. This blog post will highlight how liveblogs can be used as a powerful tool in SEO strategy to successfully meet these challenges. Learn how liveblogs can not only provide fresh, relevant and trustworthy content, but also improve your website's visibility, customer engagement, and ranking in the long term.
CURRENT TRENDS AND CHALLENGES IN SEO
The competition for organic reach continues to grow. Google constantly works on its algorithm, setting high standards for companies, media and content creators competing for the best places in search. The following trends and challenges are currently keeping everyone busy:
Helpful Content: Google's big goal has always been to present users with content that helps them. This means creating content that provides in-depth information and addresses users' questions and needs is crucial. In recent years, Google has demonstrated it's special focus on this issue with several updates.


E-E-A-T Principles: Today, Google places great emphasis on E-E-A-T, which stands for Experience, Expertise, Authoritativeness and Trustworthiness. Content must be more than simply informative. In order to be rewarded in Google rankings, content must also be high quality and trustworthy.


Featured Snippets and Changes in Google's Search Presentation: Competition for the top positions in search results has also become more intense as Google increasingly uses its own featured snippets to provide users with direct answers. This makes it more difficult to land on the first search pages.


Core Web Vitals / Technology: The loading times and user experience on a website are of crucial importance. Here, too, Google has raised the standards in recent years. The Core Web Vitals are a ranking factor that evaluates the speed and usability of a website.

More Competition: This trend has been around for years. But with the increasing amount of content being created by artificial intelligence, this challenge continues to gain momentum. Companies and content creators need to find ways to stand out from the crowd and make their content unique and valuable.
Considering these challenges, it's crucial to develop effective SEO strategies and use innovative approaches. In the following section, we will explain in more detail how liveblogs can play an important role in the modern SEO landscape and be solutions to these challenges and trends.
LIVEBLOGS AS A SOLUTION FOR SEO CHALLENGES
Liveblogs offer a wide range of possibilities for creating content to cover and interact with topics in real time. These features open up numerous possibilities to meet the ever-changing requirements in the SEO landscape.
Timeliness is the Key: When users are looking for up-to-date information, what counts for Google is not only the reputation and quality of the content, but also the timeliness... Liveblogs offer an ideal platform to inform users in real time about current events, developments or news. Through continuous updates, the liveblog always stays up to date and helps to increase visibility in search results.
Versatility Through Authors and Experts: Liveblogs enable the collaboration of different authors and experts. This is critical to meeting the E-E-A-T (Experience, Expertise, Authoritativeness, and Trustworthiness) requirements, which are highly valued by Google. The diversity of voices and perspectives in a liveblog contributes to credibility and the fulfillment of these criteria.
Reader Interaction: Liveblogs also enable publishers to directly interact with their readers. Readers can comment, ask questions, or participate in polls in real time. This form of communication promotes user loyalty and makes it possible to better understand their needs, which in turn leads to better content. In addition, users spend an above-average amount of time on liveblogs due to the continuous updates, which is a positive signal for search engines.
Structured Data and Snippets: Liveblogs effectively use structured data defined by Schema.org. This structured data helps search engines like Google to understand and interpret the content of a liveblog more accurately. This is crucial for prominent search result placement. This content can even be presented as a featured snippet or get more space in the SERPs through rich snippets.
CUSTOMER SUCCESS STORY: STEARS - MORE THAN 1,000% INCREASE IN COVERAGE
Source: Stears
An impressive example of the success of liveblogs in SEO strategy comes from Stears, a news content platform from Nigeria. Fittingly for the recent elections in Nigeria, Stears implemented liveblogs and achieved amazing results: During the presidential elections, Stears saw an impressive 1039% increase in traffic. During the gubernatorial elections, the increase was as high as 1632%.
How did they do it? Here are some of the main contributors...
Fulfillment of E-E-A-T Principles: Stears made sure to include experts and writers with deep knowledge in their liveblogs. This helped to fulfill Google's E-E-A-T principles and increase the quality of the content.
Technical Optimizations: Stears used metatags and headings with relevant keywords, updated the liveblog every 30 minutes, and used structured data according to Schema.org to help Google better interpret content.
Internal and External Linking: Through internal linking to other relevant pages on the site as well as strategic partnerships with other publishers, Stears succeeded in effective backlinking. In this way, the relevance of the liveblogs was also increased for Google.
An Early Start: Stears launched the liveblog a few days before the event, which helped improve rankings.
International Attention Through Liveblogs: Stears also noticed that Google also disseminated the content in other countries to a previously unknown extent. This effect can also be attributed to the structured data, which enabled the search engine to interpret the content more precisely. Of course, the supraregional significance of the elections also played a decisive role.
By integrating Tickaroo Liveblogs into their content strategy, Stears not only achieved a massive increase in traffic, but also higher visibility in Google's search results. A positive side effect is also several backlinks from renowned media and platforms such as the Guardian and Wikipedia. This illustrates the role of liveblogs as a powerful tool in modern SEO strategy.
THIS IS HOW EASY IT IS TO INTEGRATE A LIVEBLOG INTO YOUR SEO STRATEGY
Integrating a liveblog into an SEO strategy can be easier than you might think. With a reliable tool like Tickaroo Live Blog, the technical setup is a breeze. Signing up is straightforward and the liveblog can be seamlessly integrated into websites or blogs. This makes it possible to create and publish liveblogs quickly and effortlessly.
However, in order to ensure SEO success, preparation at the content level needs to also be taken seriously. A clear concept for the content should be developed before starting your live coverage. What topic or event should be covered? What information is most relevant to the target audience? Answering these questions in advance can ensure that the liveblog has a clear focus and provides valuable information.
Determining the authors is also important. Who will be responsible for creating the liveblog content? Experts in the field can help strengthen the credibility of the content and meet Google's E-E-A-T principles.
In addition, it's advisable to prepare content in advance whenever possible. This means providing texts, images, videos, and other media to work efficiently while you are covering the action as it happens.
Technical SEO features should also be used. This includes the use of structured data according to Schema.org to allow search engines to accurately interpret the content. This can increase the likelihood of appearing in Google's coveted Featured Snippets.
CONCLUSION
Liveblogs bring numerous attributes that optimally align with the current challenges and trends of the SEO landscape. In an era where Google increasingly prioritizes "Helpful Content" and the E-E-A-T principles (Experience, Expertise, Authoritativeness and Trustworthiness), liveblogs offer a unique approach. They provide real-time information, enable the involvement of various authors and experts, and enable you to interact directly with users. These features make liveblogs an effective solution to the increasing challenges and trends in SEO.
Stears' success story shows the potential of liveblogs to increase visibility and reach an international audience. At a time when competition is becoming more intense and technical standards are rising, liveblogs are an excellent tool to help you stand out from the crowd and rise in the SEO rankings. The future of SEO may be complex, but liveblogs offer a clear and effective way to succeed in this ever-changing landscape.