News in Focus: How to Create the Perfect Daily Update Liveblog
A well-structured liveblog offers readers a quick overview of current events in real time. It is a valuable tool for media companies and publishers to report quickly and in-depth on the day's events.

In some respects, liveblogs even outperform traditional news formats as they allow for faster updates, are better arranged, and provide more engagement for readers.
In this blog article, we want to show you why liveblogs are so crucial in current news and how you can create a successful liveblog yourself.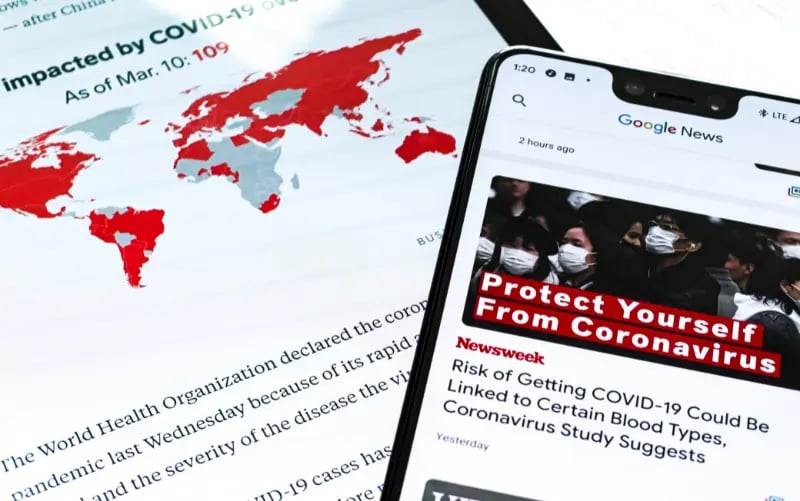 Photo by Obi - @pixel7propix on Unsplash
USE OF LIVEBLOGS FOR JOURNALISTIC REPORTING
Liveblogs have become today an essential part of online news. Due to their relevance and information density, liveblogs are particularly attractive for users who want to learn about daily news quickly and easily. The possibility of embedding images, videos, and social media posts, in turn, makes them a lively and varied medium.
In the field of journalistic reporting, two formats of liveblogs stand out in particular:
The liveblog as a live ticker that is constantly updated
The liveblog as a concise daily summary
When media regularly uses liveblogs as a live ticker, they often focus on specific topics. In this regard, liveblogs are suitable both for the media accompaniment of time-limited news events and the comprehensive reporting around long-lasting crises.
EXAMPLES OF GOOD LIVEBLOGS IN CURRENT NEWS
Due to the widespread presence of liveblogs in today's world, there are numerous good examples of their use in current news.
Der Spiegel

used daily liveblogs to cover the outbreak of the Corona pandemic. The editorial team managed to capture a dynamic news situation thanks to rapid reports on events in different parts of the world. In addition to text contributions, the journalists also used tweets and images. The relevance and reliability of this liveblog as well as its clear structure, enable greater persuasiveness.
Even now, since the liveblog posts are still available, the reporting at the time can be transparently traced and continues to create impressions to this day. To implement the liveblog, the company used the software of Tickaroo.
The UK
Guardian's
liveblog on
the Russian invasion of Ukraine
is an excellent example of continuous coverage of an ongoing crisis. Every day, editors summarize the latest developments in a liveblog. They further use a second liveblog, into which they integrate daily formats. The result is an automated chronicle of the news that gives readers a comprehensive overview of all national and international developments in the war.
The daily liveblog
"That was the day in Münster"
shows that liveblogs can be used for significant events and national news and, what's more, are suitable for regional purposes.
The Westfälische Nachrichten
liveblog provides a daily summary for the city of Münster and informs readers in a comprehensive and structured way about the day's most important events. Thus, readers get a quick and easy overview without having to search for the relevant information themselves. This type of liveblog is especially beneficial for media houses, as it keeps readers up to date and offers added value.
ADVANTAGES OF LIVEBLOGS FOR MEDIA HOUSES, JOURNALISTS AND USERS
The advantages of liveblogs for media houses and publishers are self-evident. Due to the relevance and density of information,
users become attached to the company's own site
, leading to more dwell time and a wider reach. For users, liveblogs offer users a quick and structured way to learn about current events. Instead of having to read multiple articles or visit different websites, users can find all relevant information in one place. In addition, they can post comments, ask questions, or exchange opinions in real-time.
However, liveblogs offer advantages not only for users but also for editorial teams. Because liveblogs are constantly updated, journalists can respond more quickly to events and dynamically adapt their reporting, including by using external content.
TIPS AND TRICKS FOR CREATING LIVEBLOGS ABOUT THE CURRENT EVENTS
Even though liveblogs have become the standard in online news, there are still some tips and tricks that can help you with their creation:
Structure and clarity: Liveblogs on current events are often very extensive. They should be divided into meaningful sections or use anchor links for a better overview. Highlighting important news can also help.
Time specifications: Liveblogs live on topicality. Therefore, time indications should always be clearly visible so that readers can always understand when which event took place.
SEO: Liveblogs are very popular on Google, Bing, and others and achieve good rankings. The prerequisites for this are continuity in the number and quality of posts, a focus on specific topics and keywords, and structured data that provides search engines with more information about authors, posts, and the medium.
Multimedia content: Integrating images, videos, or social media posts livens up the liveblog and makes it more attractive for the readership.
Interactivity: An opportunity for interaction, such as through polls or live chats, increases reader engagement with the liveblog.
Archiving: Even after liveblog has ended, it should still be available online for readers. This way, the reader can track events in retrospect. Media companies, in turn, profit from a continuous generation of impressions.
CONCLUSION ON LIVEBLOGS IN REPORTING
To summarize, liveblogs play a vital role in the news sector and continue to gain relevance. They provide fast and reliable reporting and serve as a platform for interaction and exchange with readers. They can be used not only for live reporting but also for structured summaries. The key to the success of a liveblog is a well-structured presentation and clear structuring of information.