Ready, Set, Liveblog! Part 3: Increasing Visibility
You've taken the first preparatory steps, planned content, and developed your engagement strategies. With the event on the horizon, the next step is ensuring that your audiences can quickly access your coverage.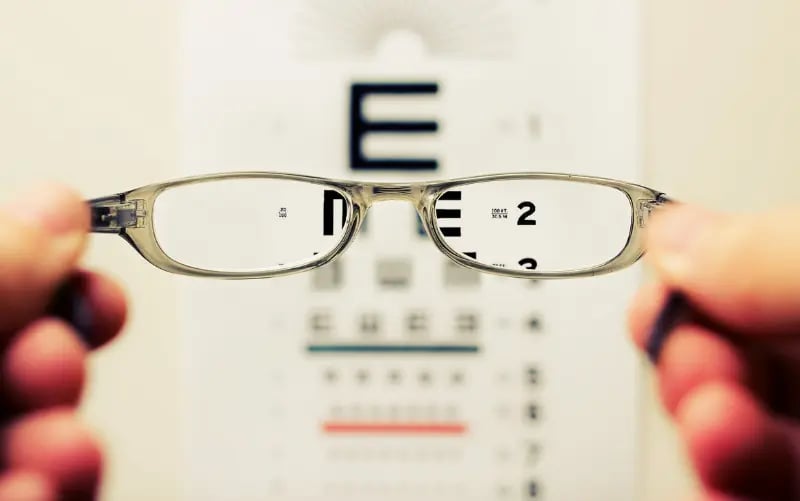 TIPS AND TRICKS FOR DRAWING TRAFFIC
After you've
thought about the structure and prepared content for your liveblog, it's important to drum up publicity. After all, writing a liveblog is undoubtedly fun, but in the end, it all comes down to people who will read it.
📨 Email marketing and newsletters.
Leverage the existing touchpoints with your readers to promote your liveblog. Reach out through targeted emails to your subscribers, alerting them about the upcoming liveblog. Have you got a newsletter? Incorporate a section outlining the impeding liveblog. Alternatively, write about the event-related topics piquing readers' interest, and then gradually introduce information about the liveblog to engage them more effectively.
📲 Promote on social media.
To get people where you want them to be, it's essential to meet them where they currently are - on social media platforms. Especially with younger audiences, leveraging all your social media channels will be extremely helpful in drawing traffic to your liveblog. Use engaging captions, relevant hashtags, and eye-catching visuals to attract attention. Consider using paid social ads to reach an even broader audience.
👩‍💻 Involve guest contributors.
Invite guest writers and industry experts to participate in your liveblog and answer your readers' questions on the liveblog topic. Thus, you will enhance the authenticity of your content and introduce a spectrum of perspectives, consequently tapping into the existing audiences of your guest contributors. For example, In 2022, Mitteldeutscher Rundfunk invited energy industry experts to their liveblog to address their readers' questions about rising energy costs. By doing so, they made their coverage more engaging and exciting for the audience.
SEO IS KING
Driving organic traffic to your liveblog might feel like a challenge. After all, the amount of various content out there makes it harder for an individual piece of content to stand out and attract readers. However, optimizing your liveblog for SEO (Search Engine Optimization) will enhance its visibility and secure a higher ranking in search engine results. This means your page will appear prominently in search queries.
🔑 Keywords are the key.
Research your target audience and the keywords and phrases they usually search for. Google's Keyword Planner is an excellent tool for this purpose. Use keywords throughout your liveblog, but don't overdo it: your readers can tell if you are just "keyword-stuffing" your content.
Signal to both readers and search engines that your content is fresh and up-to-date by using topical keywords like "current" and "up-to-the-minute". This tactic proved effective for our client Stears, who saw a remarkable 1039% increase in traffic using our liveblogging software
during their coverage of the Nigerian presidential elections.
To learn more about our clients' best liveblogging practices, check out our free whitepaper "LIVE IS LIFE" right now!
🔗 Include internal links.
By strategically incorporating internal links to other relevant pages on your website, you achieve more than just prolonging your readers' stay; you also enrich their experience with additional information. By highlighting that you have other materials related to the topic, you showcase your expertise to readers and Google. Make sure not to add internal links just for the sake of it: linking your entries to unrelated content can hurt your SEO.
💯 Ensure seamless reader's experience.
Creating a user-friendly environment will keep your readers willing to explore further and will improve your liveblog's SEO. Ensure your content is readable by embedding straightforward navigation, highlighting key points, and using headings and subheadings. Maintain consistent formatting throughout the liveblog, and use legible fonts and text colors that contrast well in the background, making it easy for people to read for extended periods.
Improve page loading speed. The less time your reader needs to update a feed - the better for their engagement and search engines' rankings. Make sure the multimedia elements you add do not weigh too much.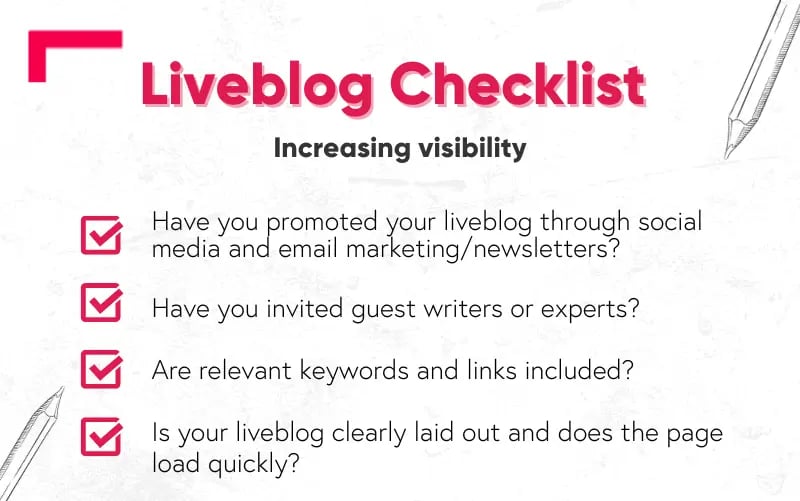 CONCLUSION
Taking the proper steps to ensure your liveblog's visibility is as crucial as filling it with quality and engaging content. The good news is that you can improve your search ranking and attract readers without breaking the bank. Follow the tips we listed above. Now your liveblog is good to go!
In the upcoming blogpost of this series, we'll explore what happens after your live coverage ends and delve into the process of analyzing your liveblog's performance.