The Magic of Co-Creation: Leveraging Your Readership
Engagement stands as a cornerstone of a thriving publication strategy; it serves as a the genesis of it all - nurturing a dedicated community around your content, enhancing retention rates, and boosting subscriptions. In this blogpost, we will explore one powerful approach to engaging your readers: content co-creation.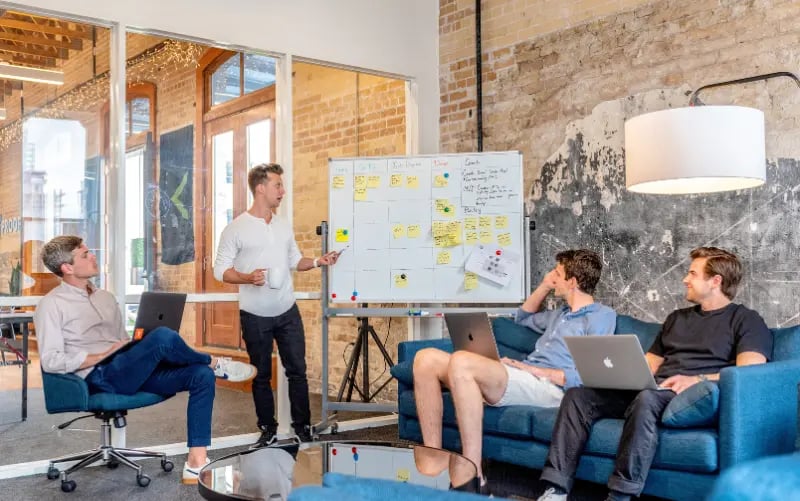 The publishing industry prioritizes reaching and engaging readers, with publishers dedicating considerable effort to attracting and retaining their audience. However, while placing the reader at the center of the publishing efforts, they often overlook another valuable opportunity: leveraging readers as an actual source of content.
In the following post, we explore how you can enhance your strategy by harnessing your readers as a resource.
INVOLVE YOUR READERS IN TOPIC DEVELOPMENT
Allow your readers to have a direct say over what exactly will be shared in your publication. Let them be a part of your brainstorming process and afterwards integrate their ideas into your content planning.
📲 Surveys and Polls. Conduct surveys and polls to gain insights into your readers' interests and the topics they'd like to see covered. Use their feedback to shape your future content.
🗣️ Comments. Comment sections can be your goldmine of insights. Keep a close watch on comments not only on your own pieces but also on your competitors' articles covering similar topics. Observe how readers engage with and respond to the content. Identify their preferences, issues, concerns, and challenges. Use this knowledge to shape your future content and develop follow-up stories that build upon your previous articles.
PROMOTE USER-GENERATED CONTENT (UGC)
Leverage Social Media
Elevate your coverage by featuring social media posts related to the event. Discover them using relevant hashtags or even create your own unique hashtag and encourage your readers to share it. Remember - it's not just about reposting; add value by providing your commentary or addressing unanswered questions.
When elevating your own content, don't limit its distribution to your team alone. Allow your readers to share your coverage with their networks by embedding sharing tools directly within your page. This not only extends your reach but also enhances your marketing efforts as your audience becomes active promoters of your content.
With the Tickaroo Live Blog Tool, you can also seamlessly integrate social media posts into your liveblog coverage. As an example, DER SPIEGEL enriched their coverage by incorporating diverse Twitter reactions during the
FIFA Women's World Cup match between Germany and South Korea.
Moreover, they embedded sharing buttons under their posts allowing their readers to share their content via Facebook, Twitter, and Email.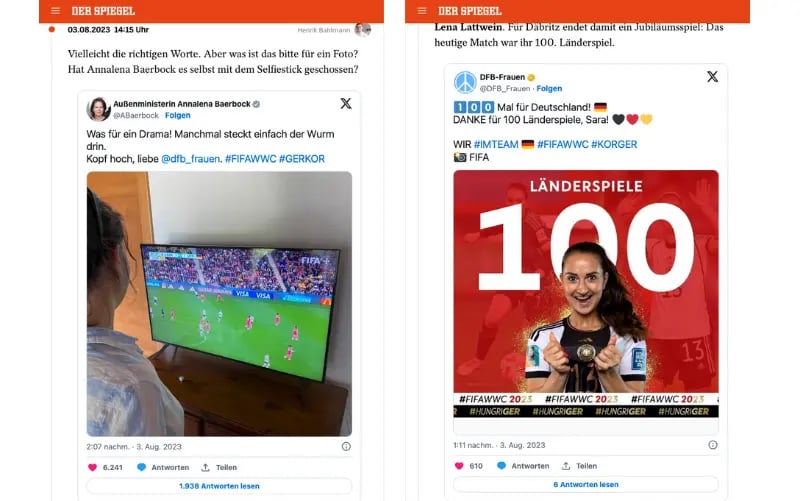 Source: Spiegel.de
Explore Opportunities for Co-Creation
Encouraging reader contributions to your content can fulfill several important goals: it brings in fresh perspectives, diversifies your content, and provides valuable audience insights. While putting your work completely on someone else's shoulders might not be the best idea, occasionally inviting some of your most engaged community members to contribute brief posts will certainly enrich your coverage.
1. Invite expert voices 👩‍🎓📕
Invite experts related to the topic to your publication to share their expertise. For example, you can host Q&A Sessions and Live Chats. Encourage your readers to submit their questions; such formats will allow you to engage your audience more directly and enhance the credibility of your content. Especially during the Covid Pandemic, publishers invited
medical professionals to participate in an online question round with their readers. Here is an example of what these "Chats with an Expert" looked like.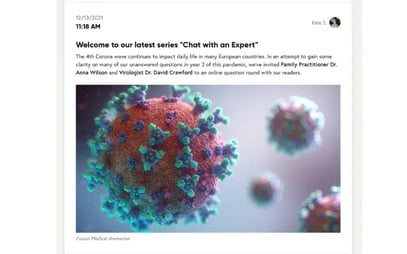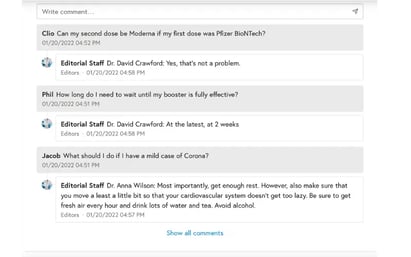 Source: Tickaroo.com
2. Host challenges and contests 🏅📷
Magazines like
National Geographic
,
Alpin
, and different travel publications often organise photo contests inviting readers to share their pictures. Likewise, you can organise various challenges inviting readers to participate and share their results across socials or directly by contacting you.
3. Encourage readers to submit their own content 🌐📝
Empower your readers to share their own content through your social media channels, newsletters, or submission forms on your website. Allow them to share their stories, expertise, opinions, photos and videos. Highlight the benefits of contributing, such as recognition or the opportunity to share their expertise.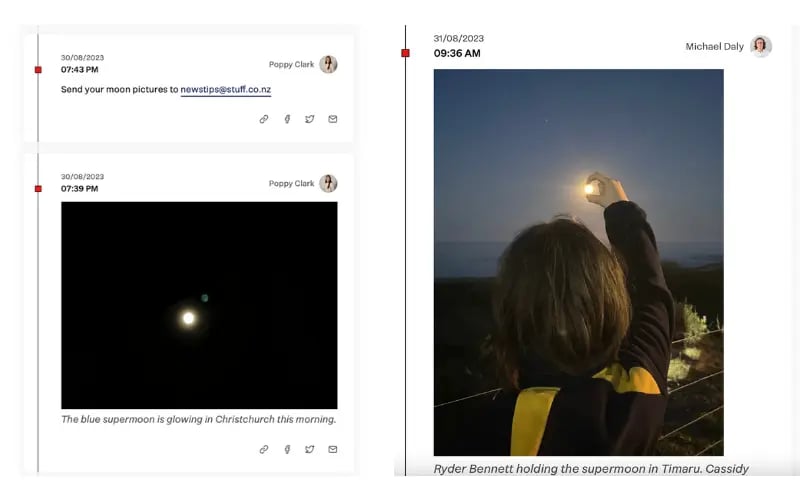 Source: Stuff.co.nz
4. Harness the power of citizen journalism 🎙️🙋
The impact of UGC is particularly evident in local news reporting. Publishers have a unique opportunity to engage their readers in citizen/participatory journalism when covering local events such as elections, demonstrations, festivals, and more. By utilizing their readers as real-time reporters, publishers can provide more comprehensive coverage of these events, bringing in a broader range of perspectives and enhancing the trust of their audience, who are more likely to rely on their fellow citizens for trustworthy information.
THIS IS WHAT UGC CAN DO FOR YOU
🚀 SEO-Booster
When readers contribute to your content, they are more likely to share it with their networks, resulting in more links leading to your website. This is crucial for SEO, as backlinks indicate topical relevance and serve as a "vote of confidence" from other sites to yours.
Engaging UGC encourages readers to spend more time on your page, improving their dwell time. Search engines interpret longer dwell times as a sign of compelling and relevant content, leading to higher search rankings for your page.
🏗️ Community Builder
Empowering users in the news process transforms them from passive observers into active participants. This shift grants them a sense of responsibility over the content as they become their co-creators. It ignites their role as engaged contributors, fostering a loyal and vibrant community around your publication.
✅ Authenticity Provider
💡Content Enhancer
Utilising your readers' insights, ideas, and experiences will add a special touch to your content. This not only makes it more interesting and diverse but also ensures a stronger resonance with your audience compared to generic content. Furthermore, by integrating personal input from your readers, you introduce many diverse perspectives, experiences, and voices into your publication.
In the news realm where many publications often cover the same topics, leveraging reader contributions guarantees the distinctiveness and uniqueness of your content compared to your competitors.
Extra Tipp: Recognize Your Reader
Recognition of your reader's effort is as important as the effort itself. Provide your readers with a feedback, acknowledge their input, and keep them informed about the status of their submissions. Always credit the authors of user-generated-content prominently. Also, when featuring other's people content, be aware of legal and ethical considerations surrounding UGC, including privacy rights, copyright issues, and consent for publication.
This recognition of your reader's effort will reward their contributions and also encourage continued engagement.